August 28, 2012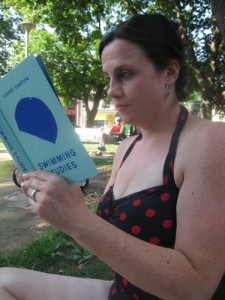 It occurs to me that I could write a swimming memoir too. I was never, ever a competitive swimmer, but my life has been punctuated by pools, shores and bathing suits. There was the pool in Bangkok in 2004, with my husband, who was my boyfriend, when we were marooned in the city after missing a flight and we went swimming together for the first time in our two years together and discovered a whole new level on which we connected, that we both adored the water. There were the turquoise rectangles and kidneys that dotted the backyards of my childhood suburban landscape, the yards you'd calculate to be invited into on the very hottest days.
I learned to swim at Iroquois Park in Whitby Ontario, and then at the Allan Marshall Pool at Trent University after my family moved to Peterborough. I met my best friend at the Trent pool, at swimming lessons when we were both 13, and seven years later we'd be swimming together at a reservoir when someone pulled a body out of the water.
There were hotel and motel pools with my sister when our family was on vacations. Our backyard pool during my teenage years. The Hart House Pool at UofT, which I swam every day when I was pregnant (which was the same time at which I'd become obsessed with reading books about swimming). And also the Turkish bath in Budapest, where I once went swimming a long time ago when I was pregnant but did not want to be.
And this is the impact that Leanne Shapton's beautiful books always have on me, her own experiences or her imagined ones leaving me awash in my own thoughts, memories and questions– see my posts on Native Trees of Canada and Important Artifacts. For me, her books point away from themselves, even in their remarkableness and their beauty as objects. (Shapton is a book designer, as well as an author and illustrator.) Which is not to say that her latest, Swimming Studies, is not an incredible book, one of the best I've read this year. In her curious collection of sketches-cum-memoir, Shapton teases out the connections between her past as an Olympic swimmer and her present day experiences as an artist in New York City. How did she get from there to here? How do her two selves inform each other? Are they really so separate after all? How does the discipline required for athleticism inform an artist's life?
Swimming Studies is an exercise in nostalgia, a love letter to places where we no longer belong. I was never, ever a competitive swimmer, but I remember the kids in my class who always smelled like chlorine, which made their skin flake and their hair turn green. I remember their t-shirts that said, "No Pain No Spain." I remember Victor Davis and Alex Baumann, and in 1984 I was in the crowd at an Anne Ottenbrite Parade, celebrating her gold medal, the very first parade I'd ever seen that didn't end with reindeer. I found it all fascinating and strange.
But I remember too having strong feelings about the logos on my sweatshirts. Shapton writes, "When I follow a trend (plastic bracelets, neon lycra), I get nervous. Mosquitos and wasps are attracted to my fluorescent-yellow sweatshirt. I spent an unhappy year in seventh grade trying to look preppy with the wrong ingredients…" She writes of her older brother, "I was always watching Derek for signs of what was possible, how to make decisions, what to like and how to tell. I knew he wanted to lose me, and I tried to keep my distance, but I wore the same Converse All Stars as he did, the same jeans…" One chapter begins, "My first visit to Ottawa was with my sixth-grade class…" I know these reference points, Phil Collins playing on the car radio. Watching through windows for your mom's headlights, for her car  to pull into the lot to take you home.
Swimming Studies is a difficult book to explain, and I'm glad that I get to review it in my blog so that I don't necessarily have to. That I can simply say that the whole thing just works, for no reason I can really fathom. Leanne Shapton writes about ponds and pools she has known– the Hampstead Heath Ladies Pond, the pool at the Chateau Laurier, the baths in Bath, and so many others. She writes about morning practice: "Ever present is the smell of chlorine, and the drifting of snow in the dark." A many-page spread displays her extensive bathing suit collection. She includes drawings of her teenage swim teammates, with brief biographies for each: "I'm not crazy about Stacy since noticing that she copied onto her own shoes the piano keys I drew on the inside of my sneakers." About quitting swimming twice, and how the swimmer inside her cannot be shaken, and how she's had to learn to live with her. Paintings of pools, of figures in the water. A chapter on her obsession with Jaws, with Jaws as metaphor. Her fascination with athletics, with athletes who aren't champions: "Their swims, games, marches aren't redemptive. Their trajectories don't set up victory."
It works, and maybe you have to understand the lost world that she's conjuring in order to really get it, or maybe you just have to understand the nature of lost worlds at all.
**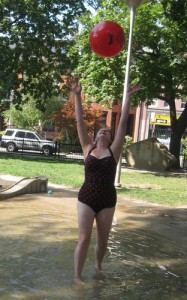 I bought my copy of Swimming Studies on Saturday on the way home from a splendid afternoon at the Christie Pits pool, the pool that this wonderful hot summer has given us many occasions to appreciate. Our visit was particularly notable because the water slide was on, and also because it was the debut of my brand new bathing suit which I've been waiting all summer for. It's my mail-order bathing suit, an idea that was always going to turn into a saga. It's the Esther Williams Class Sheath, which I purchased after seeing it endorsed by trusted bloggers at Making It Lovely and Girl's Gone Child. It arrived too late for our vacation, but actually fit (albeit snugly, requiring me to do a funny little dance in order to get into it). And it's lovely, so I was happy to have an opportunity to wear it when summer came back to us this weekend. We didn't bring our camera when we went to Christie Pits, so I decided to wear my suit again the next day at the wading pool, just so you can see how excellent it is. No ordinary bathing suit would drive me to post a photo of me wearing it on the internet, let me tell you. So maybe this is the beginning of a new internet meme called Book Bloggers in Bathing Suits? Like all proper book bloggers, however, with our sensitive skin and lack of propensity for pin-up-ness, I've had to delay this big reveal for a week or two because I was waiting for a rash to go away.
Next Page »